.
THE ISLANDS
The Maltese Archipelago is situated in the centre of the Mediterranean Sea only 90km south of Sicily and about 290km away from North Africa. The archipelago comprises of Malta, the largest island at 312 square kilometres, Gozo and Comino, the two smaller islands, and a number of other uninhabited islands and outcrops.
CLIMATE
The islands boasts a typically Mediterranean almost tropical climate, characterised by hot dry summers and mild winters with a brief rainy season. Malta receives an average of 12 hours of sunshine per day in summer.
HISTORY
Malta has been inhabited for over 7,000 years since the Neolithic times, and since has been inhabited by many of the worlds greatest empires including the Phoenicians, Romans, Arabs. Knights of St John, the Spanish, French and most recently the British.The island comprises of countless historical sites including the Megalithic temples, fortifications, Baroque cathedrals and palaces.
DRIVING
Driving is on the left and there are speed limits of 80km/h on the arterial roads and 50km/h in urban areas. Cars can be rented to drivers over 23 with a national or international driving license.
LANGUAGE
The official languages of Malta are Maltese and English, however, Italian is also widely spoken. Maltese is a language of Semitic origin written in the Latin script, is the national language of Malta. Over the centuries, it has incorporated many words derived from English, Italian and French.
SWIMMING & BATHING
The sea is generally clean and safe and also warm to swim in all year round. Some bays can have currents but their are few tides. Beachwear is permitted for beaches only and any nudity is strictly forbidden.
MONEY
Since 2008 Malta has adopted the Euro as its official currency. Banks are open from Monday to Friday until early afternoon and until midday on Saturdays. Exchange bureaux are common and international cards are accepted.
.
PLACES OF INTEREST ON THE ISLANDS
Mdina is one of Europe s finest cities, and an architectural gem in the heart of Malta, and the former island s capital city. Ville historique et ville musée, perchée sur un piton rocheux, enserre dans ses remparts un dédale de rues étroites bordées de belles demeures patriciennes, d'églises baroques, de couvents et de palais. Le semble s'etre arrêté dans cette « cité silencieuse », une vraie merveille du XIVe siècle influencée par l'architecture siculo-normande. 
.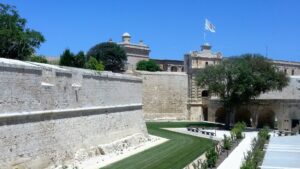 Valletta 
Valletta the "city built by gentlemen for gentlemen" is Malta s capital city and a rich Baroque and cosmopolitan city.

La fondation de la capitale de l'île remonte à 1566 sur décision du grand maître de l'Ordre, le Français Jean de La Valette.  La cité est un ensemble étonnant d'architecture militaire et d'art baroque. Vous y trouverez les

jardins d'Upper Baracca

, la

Cathédrale St-Jean

du XVIe siècle, ancienne église conventuelle de l'Ordre, un chef-d'œuvre de l'art baroque avec de remarquables pierres tombales en marqueterie, puis le

Musée des Beaux-Arts

. Patrimoine de L'UNESCO, Capitale de la culture 2018.



.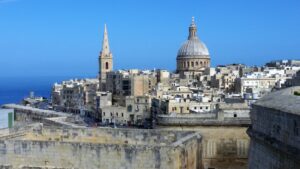 Les Trois Cités 
The Three Cities offer a deep insight into the island s cultural and maritime past. La région du Grand Port en face de La Valette connu sous le nom des Trois Cités – Vittoriosa, Cospicua et Senglea, où les Chevaliers de Saint-Jean s'installèrent d'abord  en 1530. Traversant Cospicua et Vittoriosa vous pouvez flâner pour une promenade à travers les rues étroites à l'ombre des bâtiments historiques, et des premières auberges des Chevaliers. Sur Vittoriosa vous trouverez des bateaux typiques (dghajsa) pour visiter les calanques du port. Du jardin de Senglea, situé à la pointe de la péninsule, profitez d'une vue imprenable à 360° sur le Grand Port, dont l'impressionnant Fort Saint-Ange, d'où le Grand Maître La Valette a mené la défense de l'île pendant le Grand Siège de 1565.
.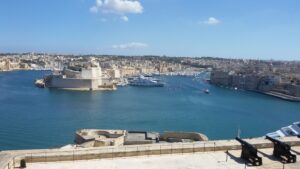 Gozo 
Perfect for a change of pace, Gozo provides a perfect backdrop of beautiful landscapes and traditional villages.

Vous aurez l'occasion de voir au large Comino, une autre île de l'archipel maltais (1800m de long), où vivent seulement une trentaine de personnes. Plusieurs sites à découvrir notamment 

Dwejra Bay

, un site naturel impressionnant qui regroupe

le Fungus Rock

, un énorme rocher cylindrique isolé à l'entrée de la baie, une mer intérieure

(mer intérieure)

qui communique avec le large par une ouverture naturelle

.

Un point fort de la visite de Gozo, la ville de Rabat pour visiter sa citadelle et aussi les fameux temples mégalithiques de Ggantija situé dans le village de Xaghra

, et pour plus détente, la baie de

Xlendi, une station balnéaire pleine de charme. Vous pourrez aussi voir les magnifiques Marais salants de Qbajjar

.
.